If you've wanted a physical copy of The Clay That Woke for your collection now is the time. I'm moving soon across the country, and my little 3' x 4' storage locker is jammed with copies of The Clay That Woke, mailing and packaging supplies, and printing supplies for other projects, and I need to seriously reduce it. Please help me out. I'm putting physical copies of The Clay That Woke on sale at a super reduced price of $14.99. If I can sell 150 copies in the next ten or twelve days it would cut my storage space of books and mailing supplies by almost half and the money would really help with the (shockingly expensive) moving costs.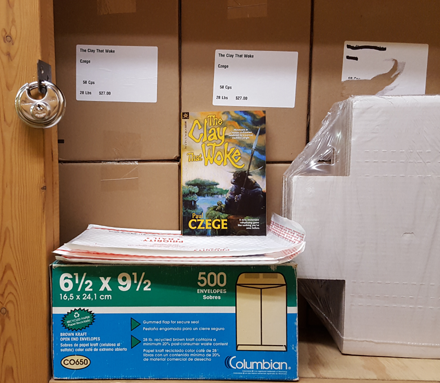 The book is $27 $14.99 (U.S.), plus shipping and handling, via the PayPal button below. It's a 6" x 9" softcover, 128 pages, offset printed on almond colored paper and lovingly designed to bring the world of the minotaurs to life, with 21 interior illustrations by Nate Marcel, iconography by Jeff Bent, a uniquely designed Table of Contents, and graphic design and lettering by Brennen Reece intended to evoke pulp novels of the mid-20th century.
I'm not as worried about selling the token sets. I don't have that many left. But I've put them on sale too for $29.99. They consist of a set of 90 die-cut professionally printed stickers with a durable commercial grade top coating and 90 wooden tokens for them. You can buy a set, along with the physical book for $67 $44.98 ($27 $14.99 for the book, plus $40 $29.99 for the tokens), plus shipping and handling, via the PayPal button below.
Thank you. If you're still on the fence, you can find out more about the game, see some of the art, and see a photo of what the tokens look like on the Kickstarter page. And if you have any questions, shoot me an email.